Spark tester
Our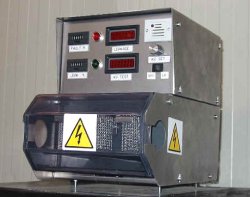 SparK tester model EMS 2003/ac 15 Kv is suited to be installed on insulated and sheathing cable's lines in order to detect insulating faults on electric single core cables.
The construction form of this apparatus is particulary suited to be placed on small spaces, thanks to the anti-magnetic disturb device, which allows to pair off the electrode to the control – unit, so avoiding any magnetic disturb whether to the control unit or to the present bordering components.
The system is in accordance with the European Standard PR EN 50356 : 2001 norms.
Besides a security device against the accidental contacts is placed; it consists of a circuit, which restricts the current to 5 m A max.